Boat Registration in South Carolina

Congrats on your new boat! Before you cruise around the coast in your new ride, you'll need to meet South Carolina's boat registration requirements to prove that you're the rightful owner of your boat.
Checking off the Palmetto State's boat registration list can be a bit choppier than a day on the water, which is why we've created this guide to help you get onto the water without a headache and as soon as possible. Follow this guide for smooth sailing!
Key takeaways:
Any motorized vessel needs to be registered

All motorboats, sailboats, and motors need to be titled

Fill out the

Watercraft/Outboard Motor Application

Boat registration certificate is valid for 1 year

Renewal is mailed to you 60 days before expiration
Do I need to register my boat in South Carolina?
All motorized vessels in South Carolina's public waters must be registered and titled. Registration is NOT required for the following:
Sailboats with no mechanical propulsion. (Keep in mind that all South Carolina sailboats must be titled though.)

Vessels exclusively powered by hand (ex: canoes, kayaks, rowboats, inflatables).

Watercrafts that are fully registered and valid in another state and will only be operated in South Carolina for up to 60 days.
You may also opt to document your vessel with the US Coast Guard instead of registering and titling it with the state of South Carolina. For more information on documenting your boat with the US Coast guard, visit their website.
If these exemptions do not apply to you, continue reading to learn how to register your boat in South Carolina.
How do I register my boat for the first time?
Let's sail into South Carolina's boat registration process. There are three pieces of paperwork that you're required to submit to register your vessel in South Carolina:
Watercraft/Outboard Motor Application

.

This application will require the vessel owner's contact information and details of their boat's make and model, among other technical information.

Paid property tax receipt in your name for the coming year from your county of residence

Your vessel's original title, completed, and signed.
You're almost there! After assembling these documents, submit them with the appropriate fees via mail to SCDNR, Attn: Titling and Registering, P.O. Box 167, Columbia, SC 29202.
When I register my boat, do I also need to apply for a certificate of title?
Anyone who purchases a motorized vessel, sailboat of any length, watercraft with outboard motors greater than 5 horsepower, or a personal watercraft (such as a jet ski), is required to title their vessel.
If your vessel has preexisting South Carolina titles, you'll need to send them in for your vessel and each of its motors. All of the required information on the backside of the titles must be filled out and signed by the boat's owner.
Remember, altered titles are invalid in South Carolina. Do not scratch out or white out any information on your title. If you do submit an altered title, a signed and notarized bill of sale will be required, along with a $5 duplicate title fee.
Original titles from South Carolina don't have to be notarized, and your driver's license number is not required.
To successfully apply for a certificate of title, simply complete the Watercraft/Outboard Motor Application and check the appropriate boxes regarding your boat's title.The good news is unlike your boat's registration, a South Carolina Title is valid for as long as you own your boat.
What type of fees should I expect?
It's easy to remember South Carolina's registration fees because they're all the same! Regardless of your boat's length, you'll pay $20 to register it in South Carolina
Additional fees you may face include $10 for your watercraft's title, $5 for a duplicate title, $5 for a duplicate registration, and $5 for a duplicate watercraft/outboard motor decal. South Carolina also charges fees for late applications and renewals, so make sure you mark your calendar to avoid an extra $15 to $30 fee.
What do I do with the registration certificate, number, decal?
Once you have successfully registered your boat, you will receive
a registration card and two decals. The decals must be affixed to each side of your boat and the registration card must remain aboard the boat for which it was issued whenever the vessel is on the water. We suggest either laminating the card or putting it in a waterproof sleeve and storing it in a compartment near the steering wheel.
You'll need to also display your assigned registration number on each side of the front half of your boat. While you can paint these numbers on, but we suggest opting instead for vinyl stickers from places like BoatUS or WestMarine.
These numbers and letters need to be at least 3 inches in height, read left to right, and in a color that contrasts with your boat's hull color. In South Carolina, every registration number starts with SC, followed by four numbers and two capital letters. Your number will need to have either hyphens or spaces between the letters and numerals. Ex: SC 1234 AB or SC-1234-AB.
Finally, your registration decal should be placed within six inches of your registration number displayed on both sides of your boat.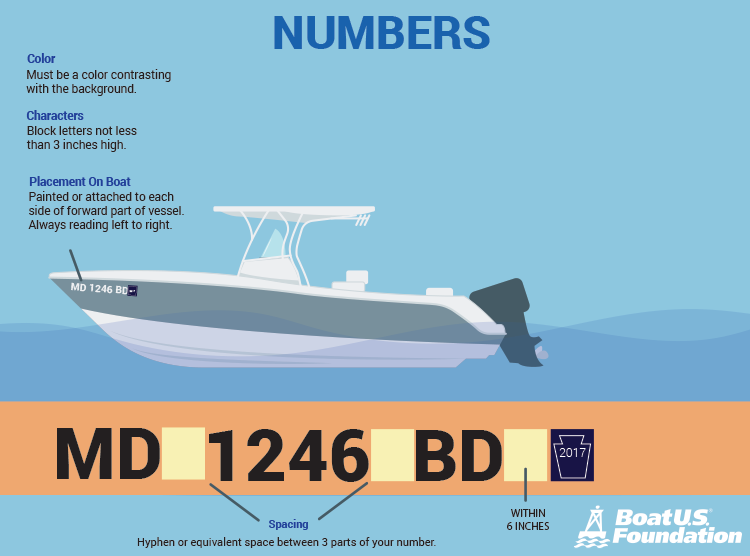 How do I renew my boat registration?
All South Carolina boat registrations are valid for one year. Once you get your renewal notification, you can renew your registration by either of the following options:
Through

South Carolina's Department of Natural Resources' Online Services

. You may only renew your registration online if your boat has been determined tax exempt by your county or your property taxes have been paid to the county, but not the registration renewal fee.

Mail your completed

Boating Renewal, Duplicate Decals, and Registration Cards

form to SCDNR Boating, Attn: Renewal, P.O. Box 167, Columbia, SC 29202-0167.
When renewing your registration, be ready to pay the $10 renewal fee and any applicable late fees.
Your registration number will not change, so there's no need to update the numbers affixed to your boat. You will have to replace the registration decals since the stickers show your expiration date. To do so, simply remove the expired decals and secure your new sticker in its place.
Do I have to register my boat trailer in South Carolina?
You'll need to register your boat trailer with the South Carolina Motor Vehicle Division. You can apply for your trailer registration certificate in person at the closest South Carolina DMV.
​​SC does not require titles on boat trailers unless they weigh 2,500 lbs or more empty. If you do wish to title, it should be done through the Department of Motor Vehicles.
Boat trailers under twenty-five hundred pounds, privately owned, and not for hire do not be licensed or registered.
What do I do once my boat is ready for open waters?
Launch your boat! South Carolina is home to 14 major reservoirs that host all types of aquatic activities. These reservoirs are the perfect destinations for any fishermen angling for some fun. And after you're done exploring South Carolina's lakes and reservoirs, you can go cruising down the Carolina coast.
And when you need to come back to shore, dock at a marina in South Carolina. Marinas have incredible amenities and can host you for just one night or an entire season. Find the perfect one on Dockwa.
Additional Resources
https://www.dnr.sc.gov/boating/Titling_and_Registration/
https://www.dnr.sc.gov/boating/Titling_and_Registration/Documented_Vessels.html
https://www.dnr.sc.gov/boating/Titling_and_Registration/Frequently_Asked_Questions.html
https://www.dnr.sc.gov/boating.html