Boat Registration in Massachusetts

Congrats on your new boat! Before you set sail to the cape or get to fishing in Massachusetts Bay, you'll need a certificate of registration to prove that you're the rightful owner of your boat.
Unfortunately, registering your boat is not as relaxing as a day on the water. That's why we've created this Massachusetts boat registration guide to help you get the necessary paperwork as quickly as possible. Follow this guide for smooth sailing.
Key takeaways
Any motor-powered boat needs to be registered

Any 14+ motor-powered boat also needs certificate of title

Boat registration certificate is valid for 2 years

Renewal is mailed to you 1 month before expiration
Do I need to register my boat in Massachusetts?
Any boat that's powered by a gas or electric motor on Massachusetts public waterways needs to be registered. This includes row boats, canoes, and sailboats that are sometimes propelled by outboard motors. Boats that are exclusively powered by wind or paddle do not need to be registered.
If your motor-powered boat measures less than five net tons (usually less than 27 feet long), then your only option is to register it with the state of Massachusetts.
However, if your boat measures more than five net tons, you have the option to still register with the state of Massachusetts or with the U.S. Coast Guard National Vessel Documentation.
To understand if a U.S. Coast Guard Certificate of Documentation makes sense for your boat, check out our pros and cons list here. Otherwise, continue down to learn how to go about registering your boat in Massachusetts.
How do I register my boat for the first time?
You're going to want to fill out this Massachusetts Registration and Titling Application and submit it with copies of these important documents:
All boats regardless of length need:
-A Bill of Sale


-Proof of Ownership

For new boats, Mass prefers you submit a copy of the original manufacturer's statement of origin (MSO). For used boats, an MSO, title, or previous registration will work.
-Proof of Massachusetts Sales Tax Payment


-Pencil Tracing of a Hull ID Number

Sounds archaic but some states (including Massachusetts) require you to place a piece of paper on top of the Hull ID and rub a pencil across the paper to make an impression.
-Payment for your registration fee

The fee is determined by how long your boat is.



-

Boats 14 feet and over need:
Title from seller signed over to you.

If your boat was originally documented with the U.S. Coast Guard, you should instead provide a deletion letter. You can contact the U.S. Coast Guard to get one.
After you ready your application, you will need to get it in front of the Massachusetts Boat and Recreation Vehicle Registration and Titling Bureau. You can either submit it in person or mail it to one of their 5 offices.
When I register my boat, do I also need to apply for a certificate of title?
If your boat is 14 feet or longer in length and uses a motor at any time, you have to get a certificate of title along with your registration. This includes 14+ foot sailboats and canoes that are designed for use with an outboard motor.
The good news is that the title certificate only costs $27.50 and is good for as long as you own the boat. It only expires when the boat is transferred to a new owner at which point they must apply for a new certificate of title.
What types of fees should I expect?
The length of your boat determines your registration fee.
Boats up to 16ft = $44.

Boats between 16ft and <26ft = $66.

Boats between 26ft and <40ft = $88.

Boats 40ft and above = $110.
This fee registers your boat in Massachusetts for 2 years. After 2 years, you will need to renew.
In addition to your registration fee, you may also need to pay for these items.
If you need a boat title = $27.50

If you need a duplicate copy of the title = $16.50 each

If you added a Lien Holder = $16.50 each
Unlike the registration fee, these items are valid until you sell or transfer your boat to another owner.
What do I do with the registration certificate, number, decal?
Once your boat has successfully been registered in Massachusetts, you will receive a registration certificate, a unique registration number, and a decal sticker.
The registration certificate should always be on board the boat in case of inspection. We suggest either laminating it or putting it in a waterproof sleeve and storing it in a compartment near the steering wheel.
You then need to affix your unique registration number to each side of the forward half of your boat. While you can paint these numbers on, we suggest opting instead for vinyl stickers from places like BoatUS or WestMarine.
These numbers and letters need to be at least 3 inches in height, read left to right, and in a color that contrasts with your boat's hull color. In Massachusetts, every registration number starts with MS followed by 4 numbers and then two capital letters. Your number will need to have either hyphens or spaces between the letters and numerals. Ex: MS 1234 AB or MS-1234-AB.
Finally, your registration decal should be placed three inches to the right of your registration number on the port side. A registration decal is not needed for the starboard side.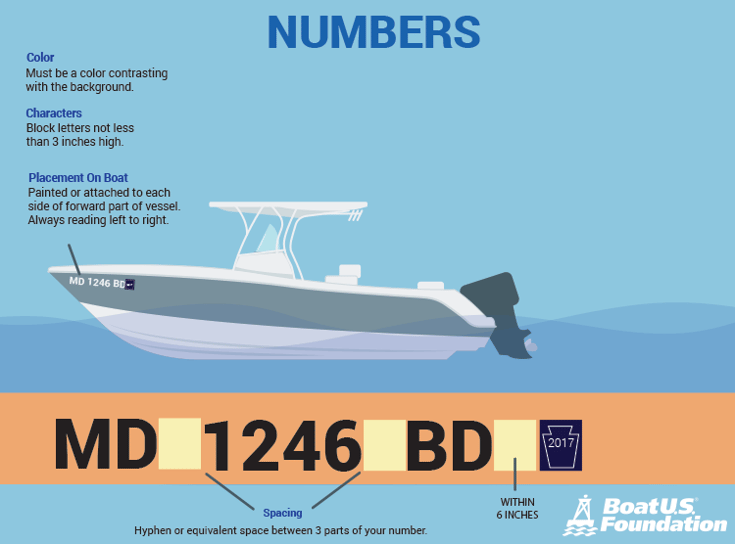 How do I renew my boat registration?
You will receive a renewal notice in the mail one month prior to the expiration of your current boat registration. You can either renew by mailing back a check, online at mass.gov/ole, or in-person at a registration office. Your registration number will not change so there's no need to update the numbers affixed to your boat. You will have to replace the registration decal though since that shows your expiration date.
Do I need to register my boat trailer in Massachusetts?
Boat trailers need to be registered through the Registry of Motor Vehicles instead of the Massachusetts Boat and Recreation Vehicle Registration and Titling Bureau. You can apply for your trailer registration certificate in person at the closest RMV.
What do I do once my boat is ready for open waters?
Get out there and explore the 1,516 miles of the Massachusetts coastline. And when you need to come back to shore, dock at one of these 95 marinas in Massachusetts. They have been visited and reviewed by boaters like you. Whether you're looking to tie up for just one night or lease an entire season, these marinas have availability.
Additional Resources
Mass Gov First-Time Boat Registration Tips
Registration and Titling Application Download